Aujourd'hui, je vous parle d'un petit coup de cœur : ce cadre génial « My Little DaVinci ». Sa particularité ? Son ouverture frontale qui permet de changer son contenu en un clin d'œil. Il y a avait une vente sur BebeBoutik et j'en ai profité pour en acheter un noir ainsi qu'un cadre blanc à faire gagner sur mon blog. Les bonnes trouvailles, ça se partage !
« La vie change. Pourquoi pas vos photos ? »
À l'origine, j'avais découvert cette invention à travers un article du site DailyGeekShow que je suis par flux RSS. Ce cadre a été inventé pour exposer les dessins de votre enfant. Il peut contenir jusqu'à 50 feuilles A4. Vous pouvez le fixer au mur (à l'horizontale ou à la verticale) ou le poser sur un meuble comme j'ai fait. Pour changer de dessin ou d'affiche, c'est simplissime : il suffit d'appuyer sur le loquet et d'ouvrir le cadre, ce qui prend vraiment quelques secondes.
Dans mon cadre, je mets soit des dessins de ma fille ou des jolies affiches :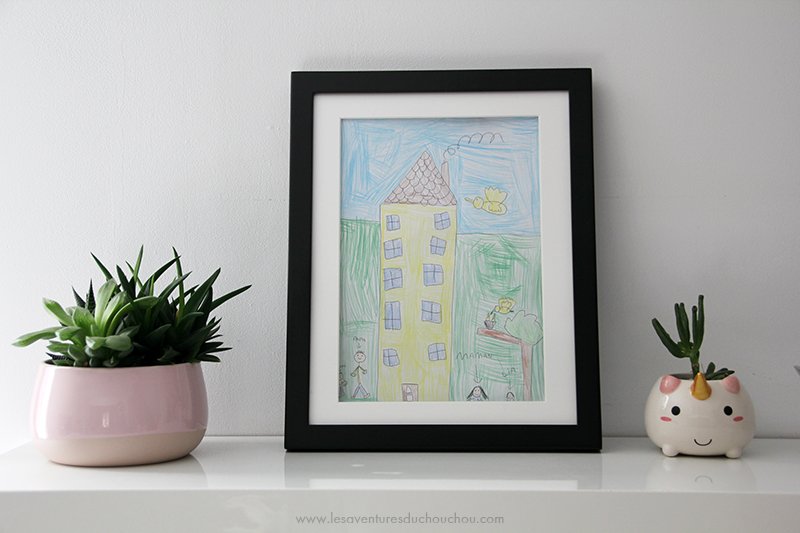 Smile Everyday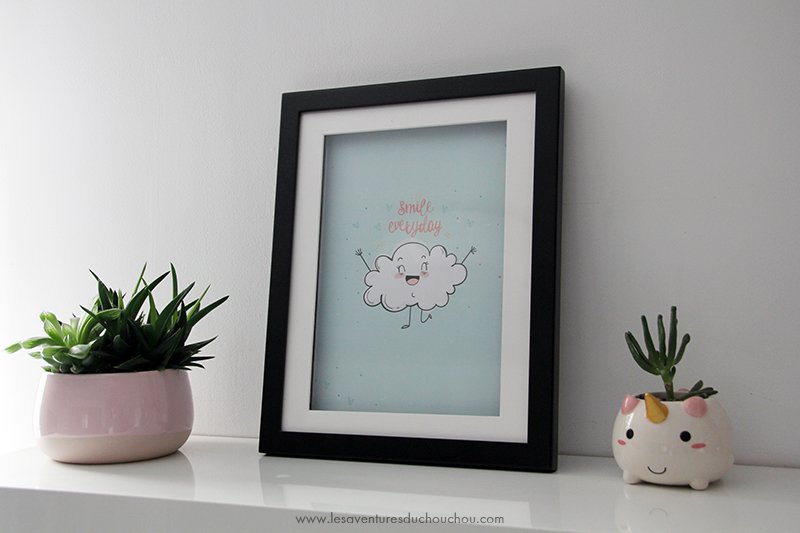 Trouvée sur Freepik *
Happy Halloween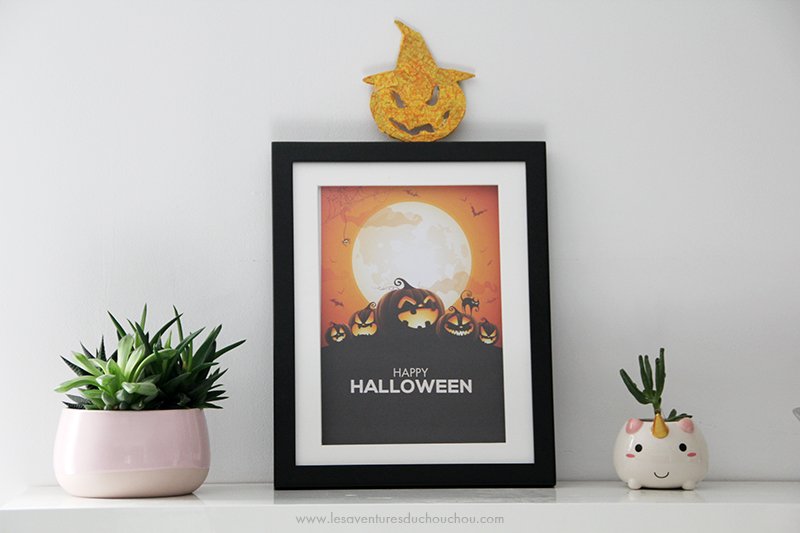 Trouvée sur PikPsd *
Do More of What Makes You Happy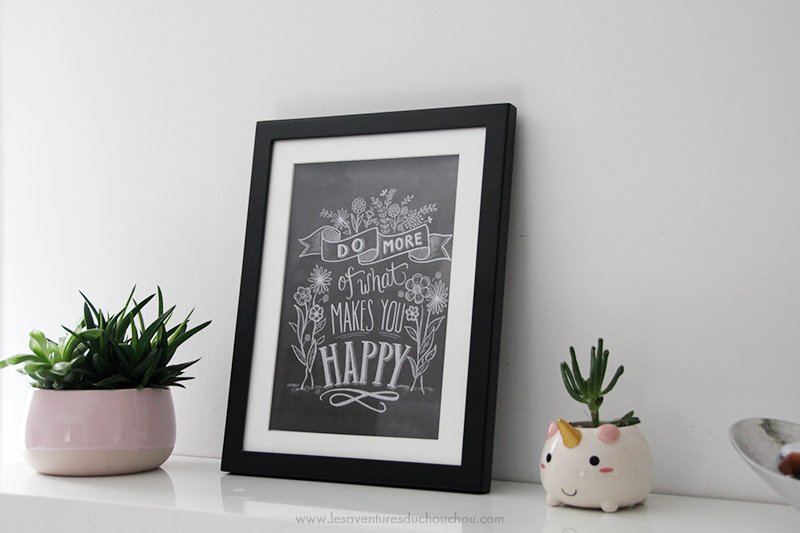 Trouvée sur Pinterest
Les Règles de la Maison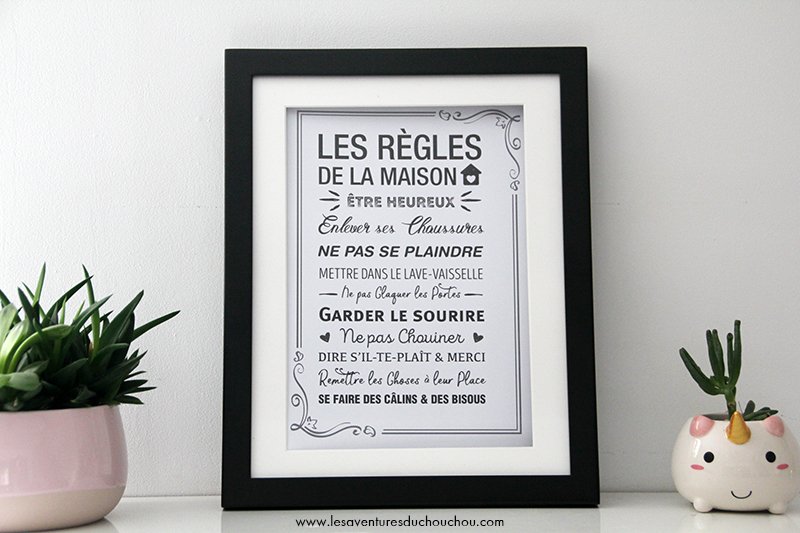 Celui-là c'est moi qui l'ai fait, cela faisait longtemps que je voulais faire une affiche de ce type. Si vous souhaitez le PSD pour le modifier avec Photoshop, envoyez-moi un message par ici. Dans la version téléchargeable, j'ai remplacé le « mettre dans le lave-vaisselle » (destiné aux beaux-parents) et je l'ai remplacé par « être honnête et respectueux ». Si vous souhaitez juste le PDF pour l'imprimer chez vous, cliquez ci-dessous :
⇢ TÉLÉCHARGER L'AFFICHE 'LES RÈGLES DE LA MAISON' (PDF)
Available in English – Download « Rules of the House » (PDF)
---
Pour finir, j'ai regroupé les affiches inspirantes dans ce board Pinterest.
* Modifiées avec Adobe Photoshop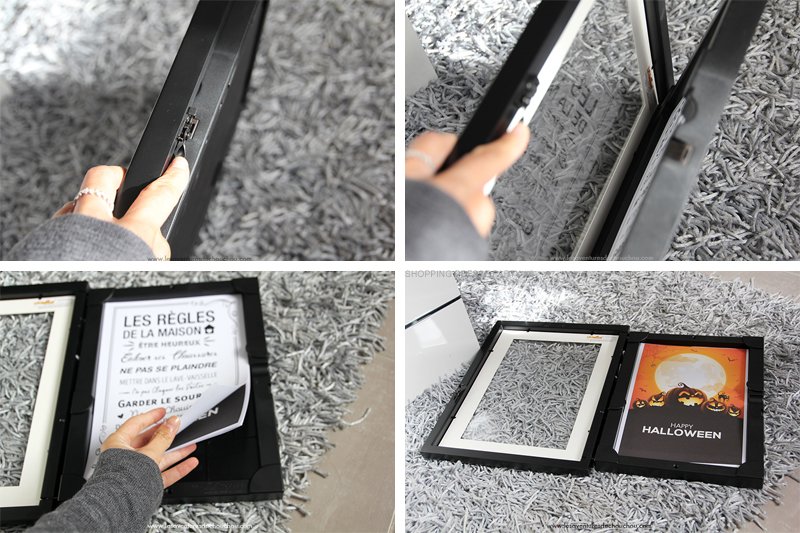 Ce cadre « My Little DaVinci » est vendu sur Amazon au prix de 28€ environ :
⇢ ACHETER LE CADRE 'MY LITTLE DA VINCI'
EDIT du 28/04/18 : Je viens de faire cette affiche « tables de multiplication » que je partage avec vous. Pour voir ce que cela donne dans le cadre c'est par ici.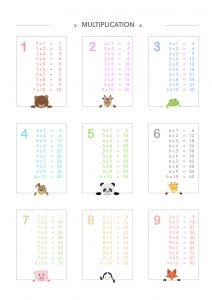 ⇢ TÉLÉCHARGER / DOWNLOAD 'MULTIPLICATION' (PDF)
EDIT du 24/04/20 : Voici une autre affiche « Less todos, more tadas » que je partage avec vous.
⇢ TÉLÉCHARGER / DOWNLOAD 'LESS TODOS, MORE TADAS' (PDF)
---
Petit concours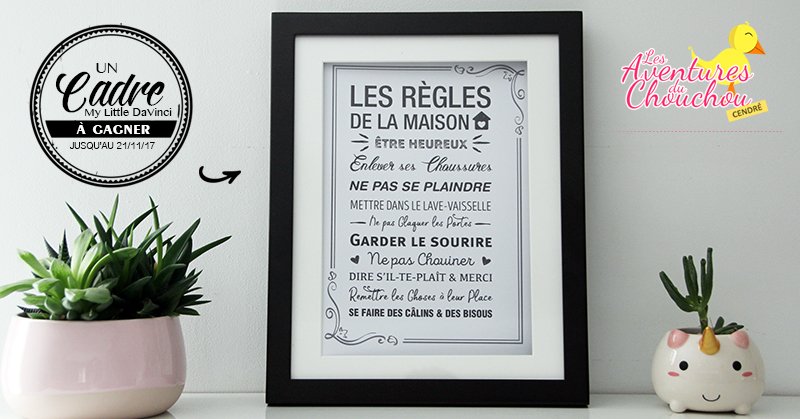 Vous pouvez tenter de gagner un cadre My Little DaVinci blanc !
Comment participer ?
Pour participer, rien de plus simple, il suffit de remplir le formulaire ci-dessous.
Les participations par commentaire ne seront pas prises en compte.
Bénéficiez de chances supplémentaires (facultatif) :
+1 : Si vous likez la page Facebook Les Aventures du Chouchou Cendré
+1 : Si vous partagez sur Facebook le post du concours (en mode public)
+X : Si vous taguez des amis Facebook sur le post du concours
+1 : Si vous me suivez sur Twitter
+1 : Si vous avez aimé et RT le tweet du concours sur Twitter
+1 : Si vous me suivez sur Instagram
+1 : Si vous avez aimé, commenté et partagé l'image sur Instagram
+1 : Si vous vous inscrivez à la newsletter du blog (n'oubliez pas de confirmer votre inscription dans le mail de confirmation)
Plus d'infos sur ce concours :
– Le concours durera 2 semaines, vous avez donc jusqu'au mardi 21 novembre 2017 pour participer.
– Un tirage au sort désignera le gagnant et son pseudo sera affiché à la fin de cet article. Le gagnant recevra un e-mail pour l'avertir, et aura 72h pour répondre.
– Soyez poli(e), soyez happy
EDIT du 22/11/17 : Bravo à Gaetan (deuXXX@hotmail.com) qui remporte le cadre.
Épinglez cet article sur Pinterest :
En résumé…
Quoi :
Un cadre photo à ouverture frontale