Comme beaucoup de monde, je suis désormais abonnée à de nombreuses chaînes YouTube. J'aime le format vidéo, différent du format article, pour un tas de raisons. Et maintenant que l'option « vitesse accélérée » (x1.25, x1.5 et x2) est enfin aussi disponible sur iPhone, j'avoue que j'en profite pour regarder encore plus de vidéos.
Voici une sélection de mes chaînes favorites, toutes catégories confondues !
J'espère vous faire découvrir des « petites pépites ».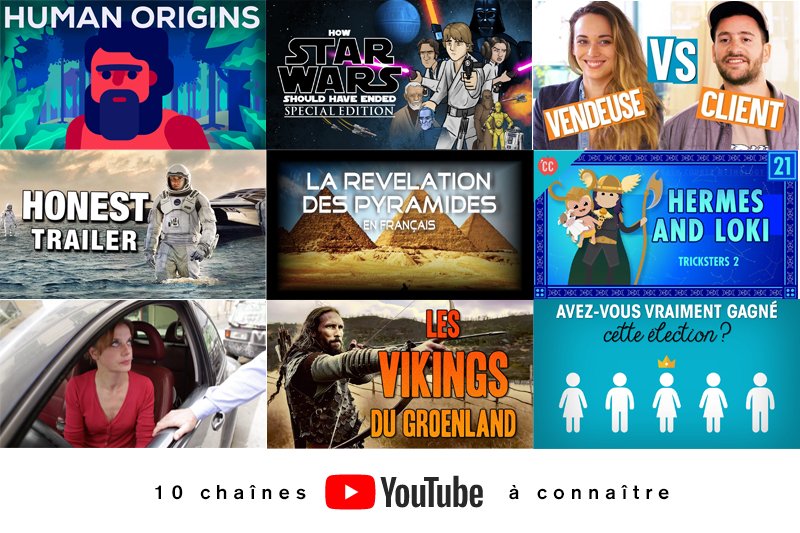 Si je ne devais choisir qu'une seule chaîne parmi toutes celles de cet article, ce serait celle-ci, qui est de loin la plus intéressante et la plus belle graphiquement.
« We are a small team who want to make science look beautiful. Because it is beautiful. »
Les vidéos sont en anglais mais des sous-titres français sont disponibles.
Voici mes 3 préférées :
– The Fermi Paradox — Where Are All The Aliens? (1/2)
– The Antibiotic Apocalypse Explained
– Death From Space — Gamma-Ray Bursts Explained

Comment les films auraient réellement dû se finir ? Chaque scène est re-dessinée et ré-écrite avec plus de réalisme.
Voici une sélection de HISHE :
– How Guardians of the Galaxy Should Have Ended
– How Indiana Jones and the Last Crusade Should Have Ended
– How Titanic Should Have Ended

J'ai découvert récemment les 3 gaillards de Lolywood et j'ai rapidement regardé toutes leurs vidéos. Mes préférées ? Les VS :
– Coach VS Fragile
– Père Noël VS Enfant
– Meuf VS Meuf

Honest Trailers, ce sont les bandes-annonces « honnêtes » des films, en toute sincérité, avec une bonne dose d'humour américain et une voix-off imposante. Les auteurs relèvent toutes les incohérences, les redondances, les anecdotes marrantes…
– Honest Trailers – Stranger Things
– Honest Trailers – Fifty Shades Darker
– Honest Trailers – La La Land

De la statistique, des mathématiques et de la démographie expliquées au chat belge Albert, par de courtes vidéos de quelques minutes. On y découvre que les statistiques ont une place importante dans notre société.

Des tonnes de vidéos intéressantes sur des sujets variés : sociologie, computer sciences, histoire et mythologie.
7- MDM (HUMOUR)

Enfin une chaîne humoristique pour les parents ! MDM (maman de merde) c'est une web série cash-trash et explosive : les aventures d'Alice la pire mère ever (égocentrique, irresponsable, puérile) :
– MDM – Maman De Merde recherche nouvelle nounou
– MDM – Maman De Merde dans le métro
– MDM – Maman De Merde au restaurant

Looper, c'est la chaîne qu'il faut suivre si vous aimez le cinéma, les séries et les jeux vidéos.
– The Most Underrated Sci-Fi Movies Of The Last 15 Years
– Christopher Nolan Movies Ranked Worst To Best
– Popular Fan Theories That Have Finally Been Confirmed

Beyond Science, c'est un peu l'équivalent de l'émission Alien Theory sur YouTube. Des théories farfelues, des mystères jamais élucidés, des histoires qui font peur…
– 5 TERRIFYING Visions of HELL People Saw When They Almost Died
– 10 CLUES The Pyramids Were Built Using ADVANCED Ancient Technology
– 5 REAL Places That Could Be PORTALS to Another DIMENSION
10- Pour La Petite Histoire (INFO-DIVERTISSEMENT)
Pour La Petite Histoire retrace des faits historiques tout en restant divertissant.
– LES INCROYABLES ORIGINES DU SYSTÈME BRAILLE
– LES ORIGINES DU PÈRE NOËL
– POURQUOI NOS ANCÊTRES ONT-ILS ARRÊTÉ DE PRENDRE DES BAINS ?
Edit du 24/08/20 : La chaîne et ses vidéos ont été supprimées, dommage !
À SUIVRE AUSSI…
– PBS Space Time (ESPACE)
– Life Noggin (SAVOIR)
– Palmashow (HUMOUR)
– Natamelie (FILLE)
POUR CONCLURE
Je termine cet article par cette vidéo à regarder absolument. On me l'a montrée il y a quelques années. Elle a changé ma vision des choses, je vois le monde autrement depuis. Dans ce reportage, certains faits ont été exagérés mais d'autres sont troublants et inexpliqués. C'est en visionnant ce film que j'ai réalisé que nous, les écoliers, avons bêtement cru nos manuels d'histoire mais qu'en réalité une partie du passé de notre propre planète est complètement inconnu.
Et vous, avez-vous des chaînes / vidéos YouTube à me conseiller ?
Épinglez cet article sur Pinterest :