Au sommaire de ce Slice of Life #7 :
– Decathlon et ses nouveautés
– Fashion Angels
– Sea Life
– Des perles à repasser
– Playmobil FunPark
– Le Château des Aventuriers
– DragonLand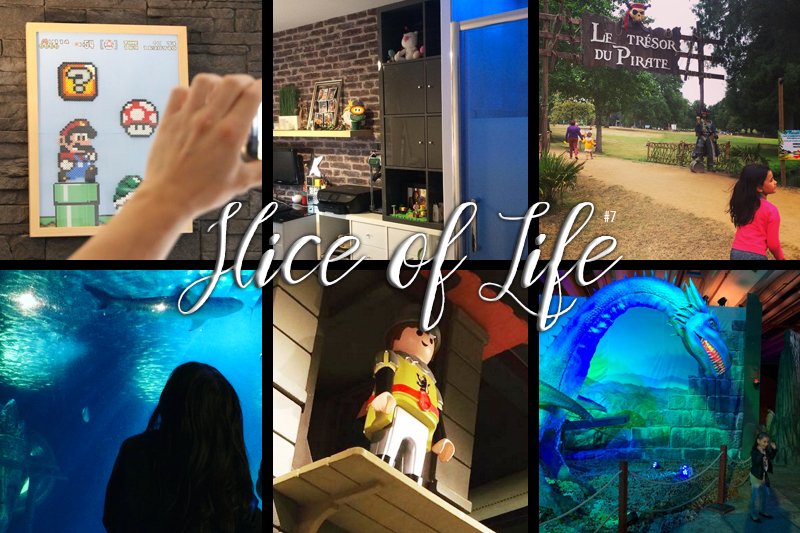 Decathlon
Lundi dernier, c'était la journée presse Decathlon, j'y suis passée après le boulot et j'ai repéré quelques produits intéressants comme :
– Leur masque « phare » SUBEA pour respirer naturellement sous l'eau,
– Des chaussures de ski Pumzi pour enfant qui couvrent 4 tailles grâce à un système gonflable,
– Des sous-pulls « intelligents » Freshwarm pour le ski aux matières brevetées,
– Des casques de ski avec visière intégrée,
– La borne pour imprimer des cartes cadeaux n'est pas parfaite mais c'est sympa tout de même (impression photo personnalisée sur carte).
Fashion Angels
On a reçu une jolie surprise à la maison, Fashion Angels de Lansay (merci Franck Drapeau) :
Nouveau bureau
Un jour, mon copain a dit : j'en ai marre de cette salle d'eau-cagibi, je vais tout casser. Ça a duré des mois et il a bien galéré (plomberie à retoucher, murs pas droits…) mais il a eu l'idée de génie de créer une corniche avec un bandeau LED en haut de la douche, le résultat est magique 😍 j'adore. Bref, les travaux du bureau/chambre d'amis sont presque terminés !
Guardians of the Galaxy
8€ le lot, merci AliExpress :
Sea Life
Cet été, nous sommes retournés visiter Sea Life situé dans le centre commercial Val d'Europe. C'était ma seconde visite, j'ai autant aimé que la première fois. J'en reparlerai plus en détails sur le blog !
Tableau de perles à repasser
Les perles à repasser, je vous en parlais déjà un peu par ici et par là. Mon copain a décidé de réunir ses « créations » Mario dans un tableau, voici le résultat :
Playmobil FunPark
Paradis pour les enfants 😜, enfer pour les parents… Découverte du Playmobil FunPark, dans le 94. Étant donné qu'il y a peu de parc de ce type en Europe, il y a généralement beaucoup de monde pendant les vacances scolaires.
Le Château des Aventuriers
En Août, nous sommes partis en vacances en Vendée. Nous avons passé une belle après-midi au Château des Aventuriers dans le 85. On a eu le temps de faire seulement 2 activités mais le parc mérite sa bonne note sur google (petite déception au niveau de l'AR cependant…).
DragonLand
Avant de retourner au boulot, j'ai emmené les enfants voir les dragons à DragonLand au Parc des Expositions. Le prix des entrées étaient un peu élevé mais honnêtement ça valait le coup : les dragons étaient vraiment bien faits (j'ai entendu plusieurs fois « maman, c'est un vraiii dragon ? »), il y a un petit manège à la fin et un petit stand photo. Bref, DragonLand c'était l'expo à ne pas rater à Paris cet été, largement relayée sur les réseaux sociaux.
N'hésitez pas à aller voir les autres « Slice of Life ».
Pour me suivre sur Instagram, c'est par ici !