Cela faisait un petit moment que j'en entendais parler et j'ai enfin pu les tester : les fameuses perles à repasser ! Cette activité enfantine permet de créer un objet unique en quelques minutes. On avait commencé sur le thème de Noël mais on a rapidement basculé du… côté geek ♡ :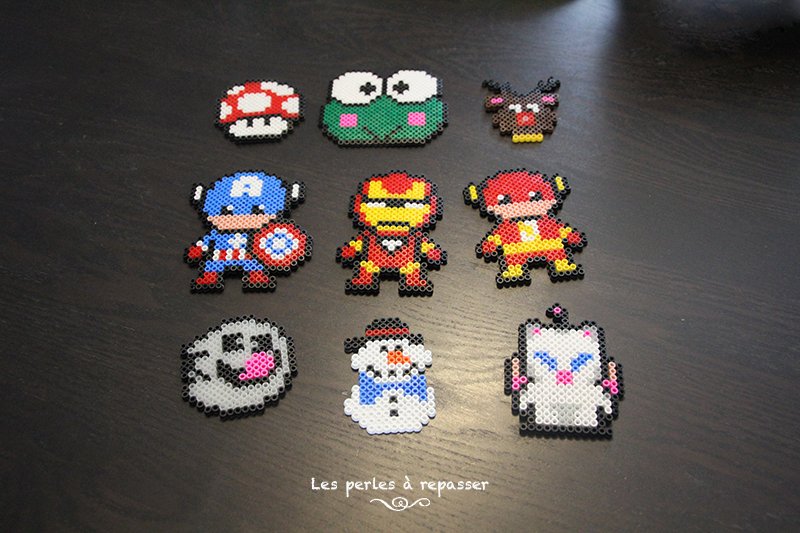 J'ai profité d'un vente sur Bebeboutik (site de ventes privées puériculture et enfant) pour acheter deux kits de la marque Playbox : un kit sur les décorations de Noël et un kit avec des perles phosphorescentes. La vente éphémère est terminée sur Bebeboutik mais vous trouverez ces kits sur Amazon ici pour le Christmas et là pour le Glow in the Dark. J'ai aussi pris une bouteille de 3500 perles (10 couleurs différentes).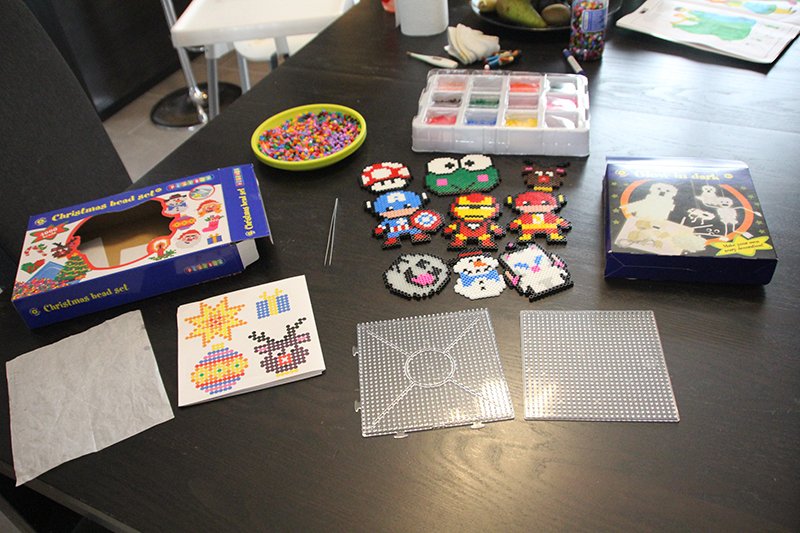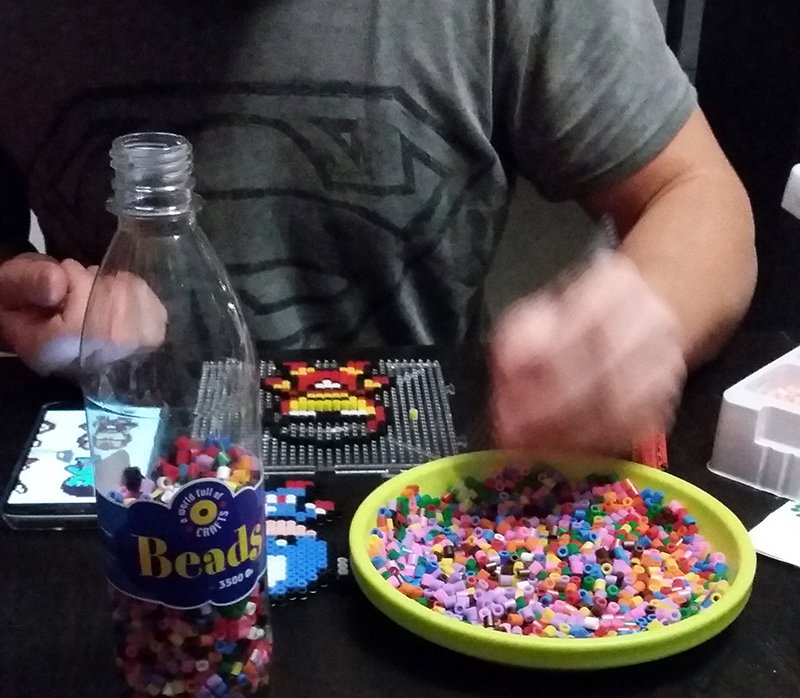 Les perles à repasser, comment ça marche ?
Dans les deux sets Playbox, il y a une grille fournie. Celle du kit 'Glow in the Dark' est mieux, les picots sont plus grands et elle est en forme de puzzle (donc potentiellement extensible). Dans les sets, il y a aussi des modèles à suivre. Il suffit de placer les perles dans les picots selon le modèle. Une fois que c'est terminé, on place une feuille de papier qui est fournie dans le kit (c'est du papier sulfurisé ou tout comme) au-dessus et on place le fer à repasser chaud dessus jusqu'à ce que les perles soient collées entre elles. Ensuite on enlève le papier, les perles qui sont liées et TADAAA vous obtenez un joli item homemade. Vous pouvez aussi utiliser une grande pince pour placer les perles, c'est plus pratique.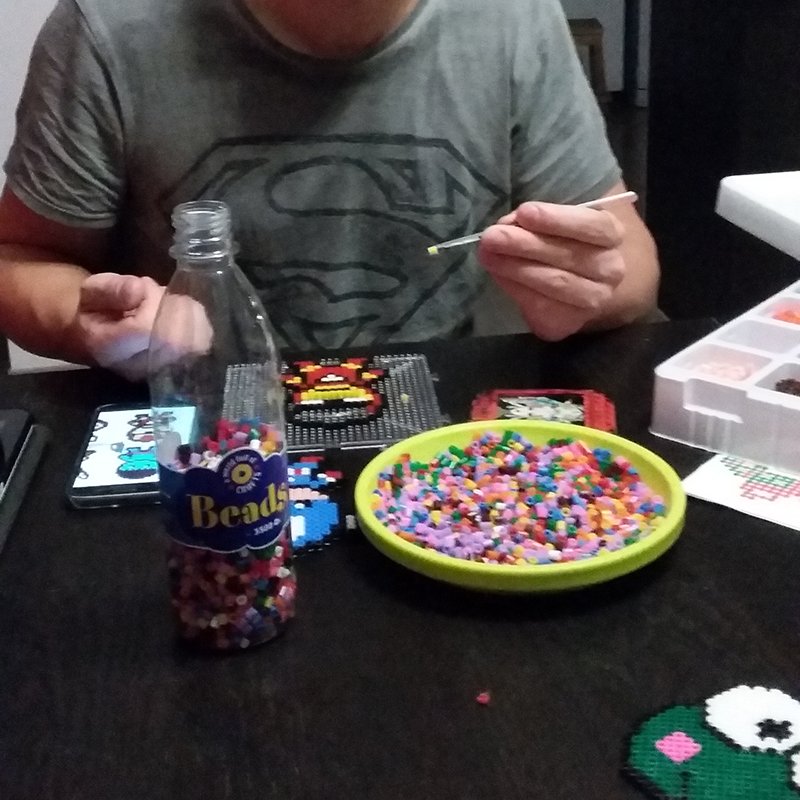 L'avis de Loulou :
Bon, en toute honnêteté, Loulou (4 ans et demi) a manipulé 20 minutes les perles puis elle s'est lassée et a préféré trier les couleurs.
Nous, les adultes, on a joué avec les perles à repasser presque toute la journée. Les perles à repasser, c'est un jeu de grands déguisé en jeu de petits.
Le papa s'est amusé à faire Flash…
ainsi que Captain America :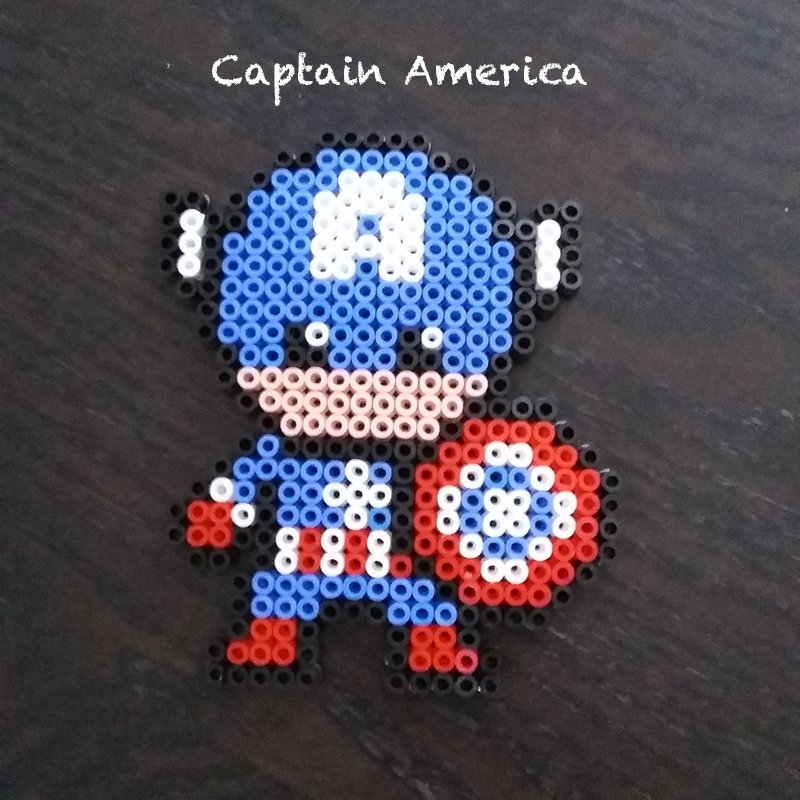 Et enfin Iron Man :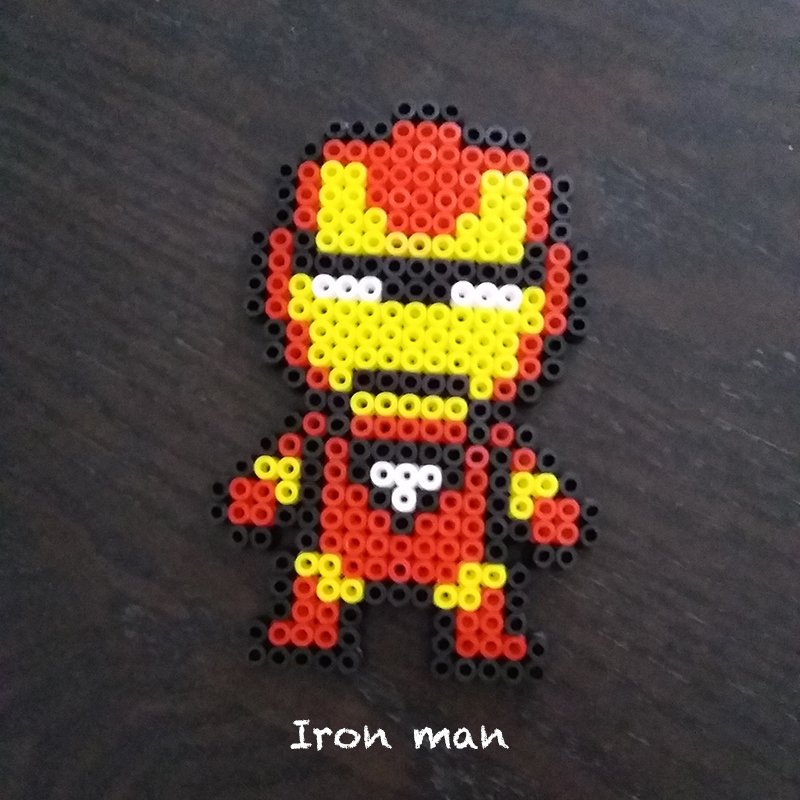 Il m'a aussi fait Mog de Final Fantasy VI ♥ :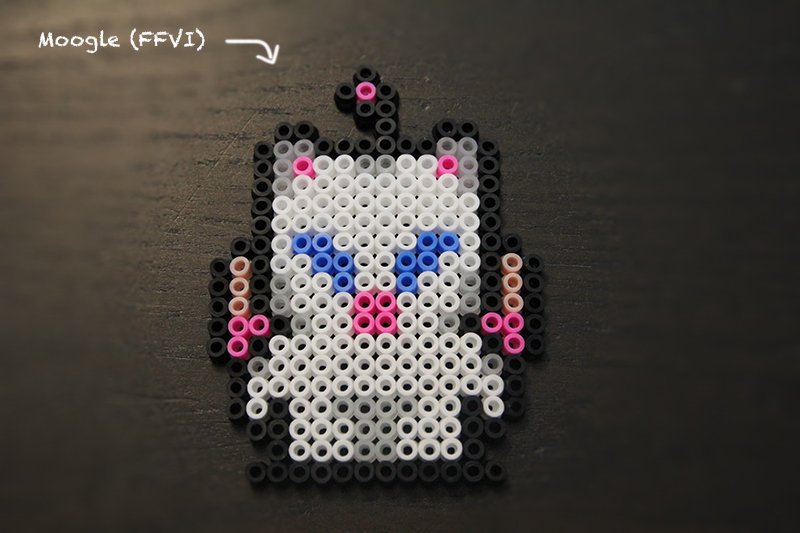 Manque de bol, malgré les 2 kits et la bouteille, je n'ai pas de perles grises (on a utilisé les perles du kit 'Glow in the dark' à la place) donc pas possible de faire Totoro, Batman… Mais le fantôme de Mario brille dans le noir car ses perles sont phosphorescentes et ça c'est assez cool !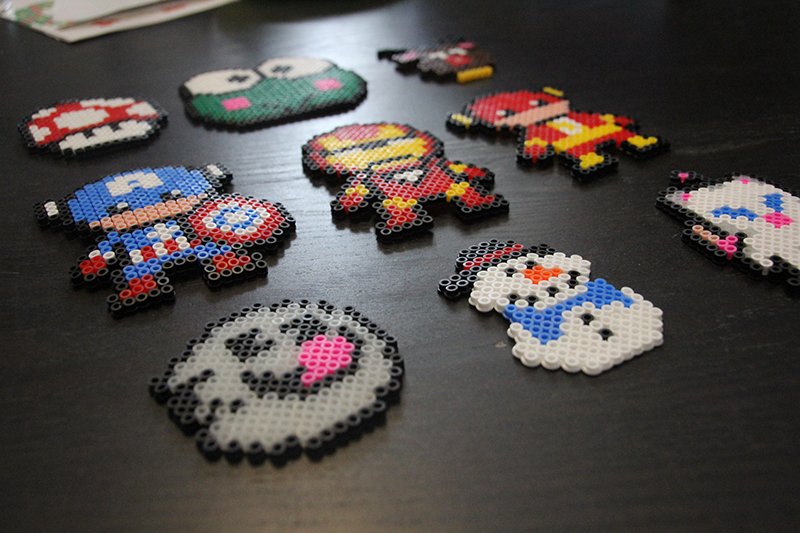 Il existe aussi des perles à repasser XL.
Pour ceux qui veulent tester cette activité à la maison, je vous conseille donc de prendre un kit (qui contiendra une grille, des modèles, des perles adaptées) et des perles en plus. La marque leader du marché des perles, c'est la marque Hama. Pour un peu moins de 5€, vous pouvez avoir un sachet de 3000 perles de 22 couleurs différentes. De quoi vous occuper des heures…
Sur Etsy, beaucoup d'amateurs de perles à repasser revendent leurs « créations », et ça cartonne partout dans le monde ! Au boulot, ils ont craqué sur les plantes Mario (avec le pot de fleur, les perles marron à la place de la terre…). Et vous pouvez aussi créer des bijoux avec les perles à repasser !
Dans ma TODO : du Star Wars, encore du FF, du Totoro, du Mario, du Marvel et du DC, bref… Il va falloir que je rachète des perles. Pour les modèles, Google Images is our friend (en anglais, avec le mot 'bead', vous aurez plus de réponses).
Et vous, les perles à repasser, vous connaissiez ? Est-ce que cet article vous a donné envie de tester ?