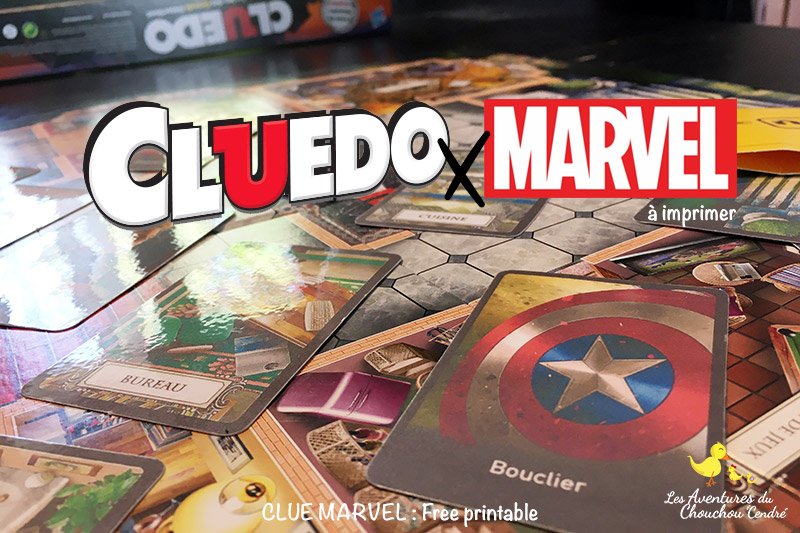 Cluedo est un de nos jeux préférés. Avec les enfants, on a eu l'idée de décliner le jeu pour que mon fils (qui ne sait pas encore lire) puisse jouer avec nous ! On a donc imaginé une version Marvel que l'on partage avec vous.
Clue is one of our favorite games. With my children, we imagine a Marvel version that we share with you! The download link is at the end of this article (the blue button).

La conception :
Après un petit brainstorming (version 8 ans) autour d'un déjeuner et d'un brin de Photoshop, voici ce qu'on a concocté :
6 personnages Marvel (Black Widow, Captain America, Doctor Strange, Hulk, Spider-Man, La Guêpe) et 6 armes (l'arc d'Hawkeye, le blaster de Star-Lord, le gant d'infinité, le marteau de Thor, le sceptre de Loki et le bouclier de Captain America) et les 9 pièces du Cluedo.
Chez vous, voici les étapes à suivre :
1. Téléchargement du zip (lien plus bas)
2. Impression des cartes et des fiches (sur du papier cartonné si possible)
3. Plastification (facultatif mais recommandé)
4. Découpage
5. Arrondissage (facultatif)
Et c'est parti pour des parties « marvellous » !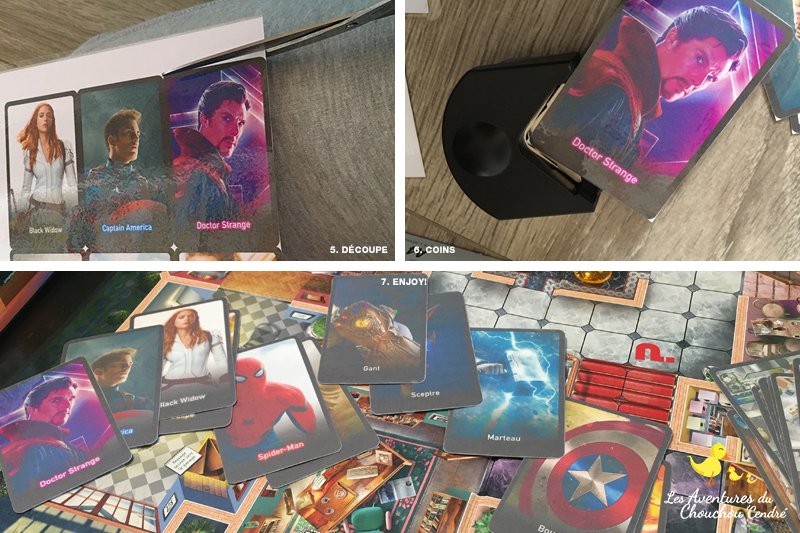 Le pitch ?
Tony Stark a organisé une fête dans sa vaste demeure. Mais avant même qu'il ait pu faire son speech de victoire, un des serveurs est retrouvé assassiné ! Seuls 6 invités se trouvaient dans la maison au moment du drame, les autres étaient dans l'immense jardin. Un skrull a sans aucun doute infiltré les Avengers ! C'est maintenant à vous de résoudre l'énigme !
La plastification :
Si vous n'avez pas de plastifieuse à la maison, je vous recommande ce modèle Olympia que j'utilise et dont je suis ravie. Un arrondisseur est fourni avec.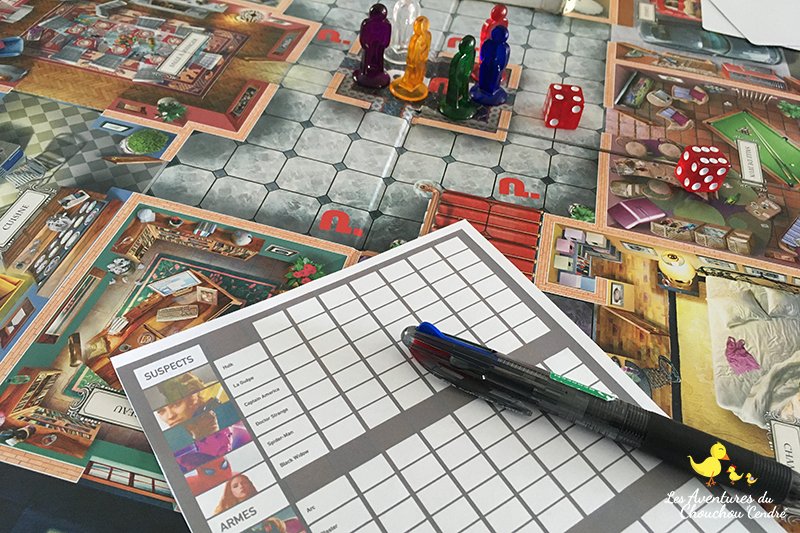 La version :
Le Cluedo que je possède est la version de 2012 (cet article détaille toutes les versions et variantes). Étant donné que les cartes reprennent le design des pièces de ma version, j'ai fait une autre version alternative avec des emojis pour que les cartes puissent être utilisées pour n'importe quelle version (le problème c'est qu'il y a pas mal de différences entre les années). Les fiches d'enquête ont aussi les images incluses en plus du texte pour les enfants qui ne savent pas encore lire.
Vous pouvez aussi utiliser les cartes pour faire un château de cartes.
---
Liens de téléchargement « Cluedo Marvel » (gratuit)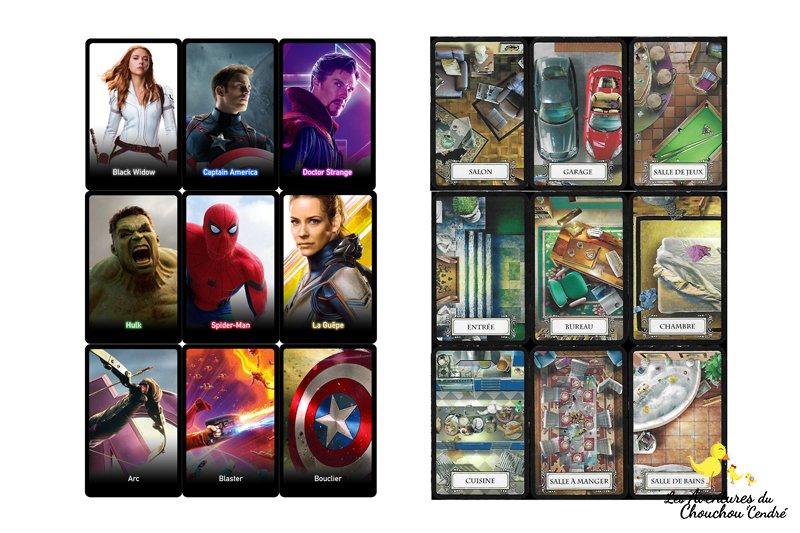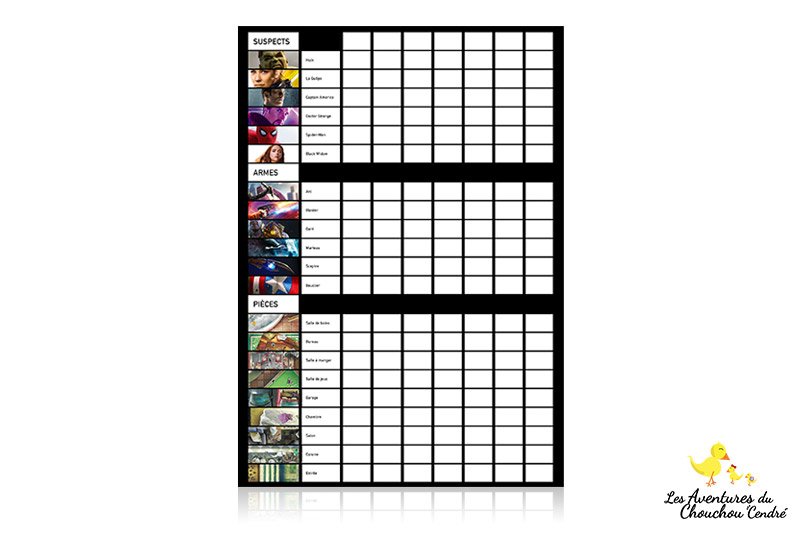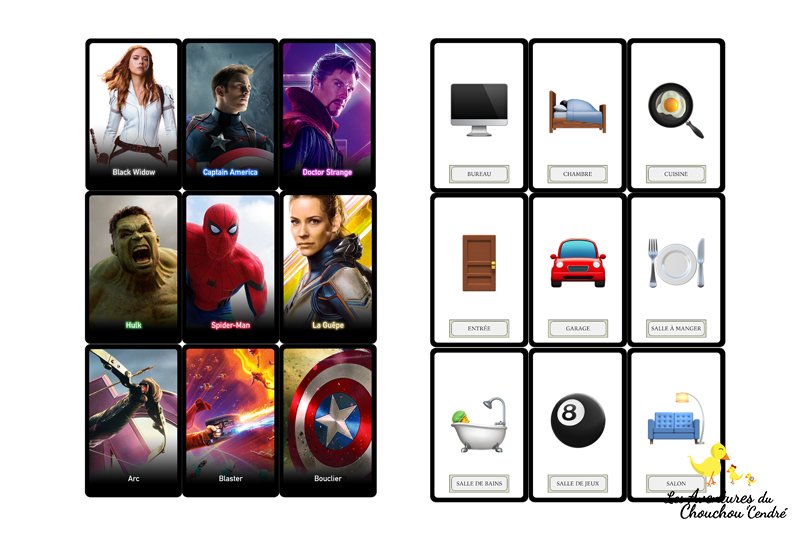 ⇢ Télécharger le printable Cluedo Marvel (format : zip / jpg, 4.3 Mo)
⇢ Download the printable Cluedo Marvel (english version, format : zip / jpg, 3.7 Mb)
Il vous faudra aussi le jeu original Cluedo vendu à peu près 30€.
J'espère que cette variante gratuite vous plaira !
Si vous aimez le Cluedo et Marvel, cette version est… inévitable !
Une suggestion ? N'hésitez pas à laisser un commentaire !