J'espère que vous et vos proches allez bien pendant cette période inédite.
Voici une sélection de bons plans spécial confinement.
Cet article sera mis à jour au fur et à mesure. N'hésitez pas à contribuer à cette liste en bas de l'article.
Dernière mise à jour : 04/05/20.
LOISIRS
Asmodee
Pour vous aider à supporter le confinement en jouant chez vous, Asmodee et ses éditeurs partenaires vous ont concocté un petit pack de jeux à télécharger et imprimer.
→ Dans la famille, on est accrocs aux jeux Unlock.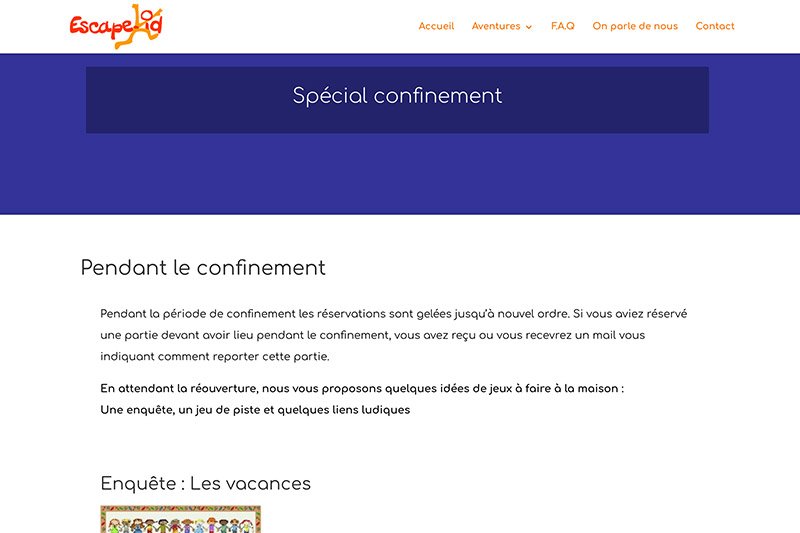 Escape Kid
En attendant la réouverture de l'enseigne Escape Kid à Paris, ils vous proposent quelques idées de jeux à faire à la maison : une enquête, un jeu de piste et quelques liens ludiques.
♦ En savoir plus sur Escape Kids.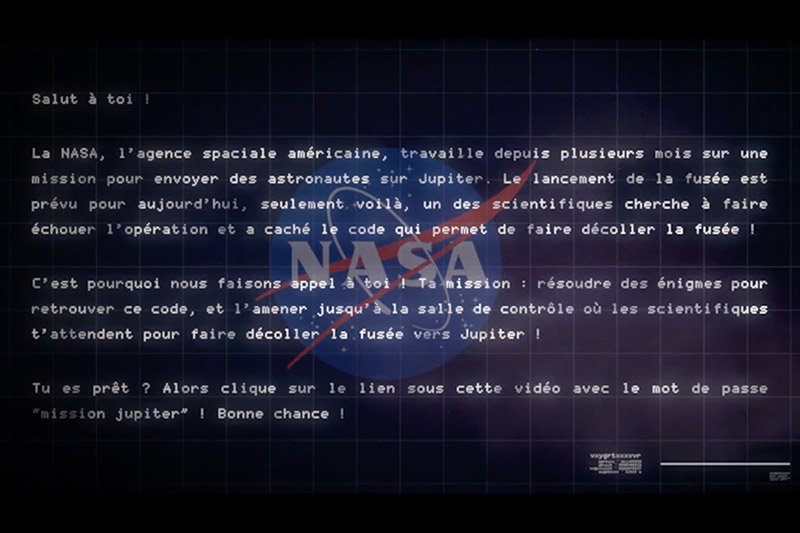 Mission Jupiter
Un ancien collègue de Publicis, Valentin Tesson, a imaginé un escape game interactif dédié aux enfants, avec des énigmes plutôt réussies !
Pour commencer, imprimez le plan ici puis laissez-vous guider en cliquant sur ce bouton :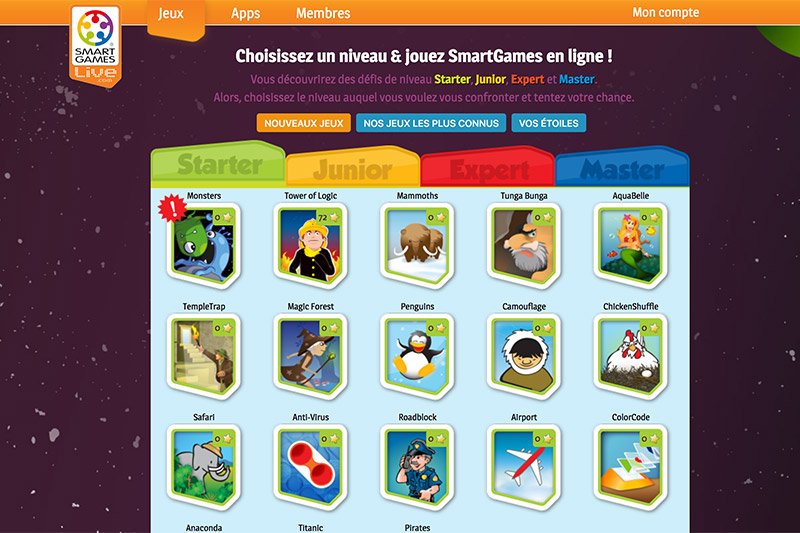 Smart Games Live
Jouez gratuitement sur SmartGamesLive : accédez gratuitement à tous leurs jeux de pensée logique !
♦ À la maison on est fans des jeux Smart Games : https://www.instagram.com/p/Bfscdocj1XP.
Lunii
Des promotions spéciales confinement sur des histoires à télécharger.
♦ Pour en savoir pour sur la Lunii, un must-have pour les parents, je vous invite à lire mon article dédié.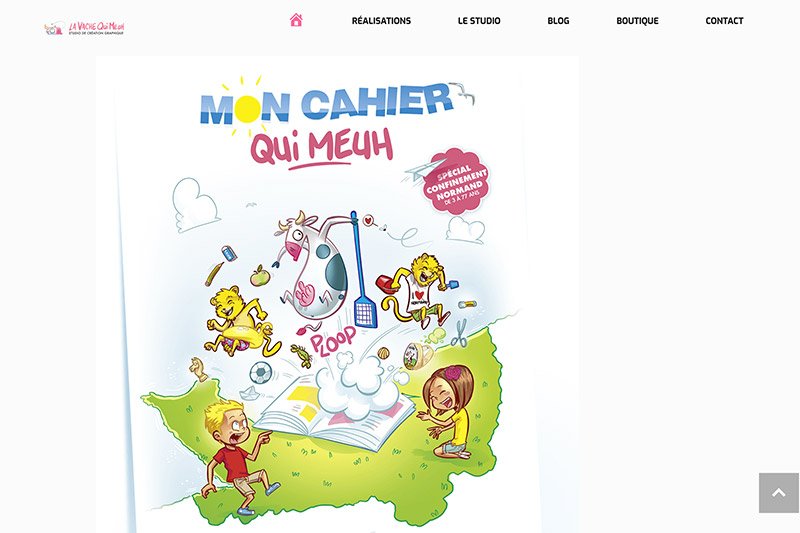 Cahier d'activité
« La Vache qui Meuh » est un studio de création graphique qui propose un joli cahier d'activités pour les enfants de 4 à 77 ans. Il y a des coloriages, des tutos pour apprendre à dessiner, des jeux…
→ Vous avez aussi d'autres cahiers d'activité (de vacances) à télécharger gratuitement chez Lulu La Taupe.
⇢ Cahier d'activité 'La Vache qui Meuh'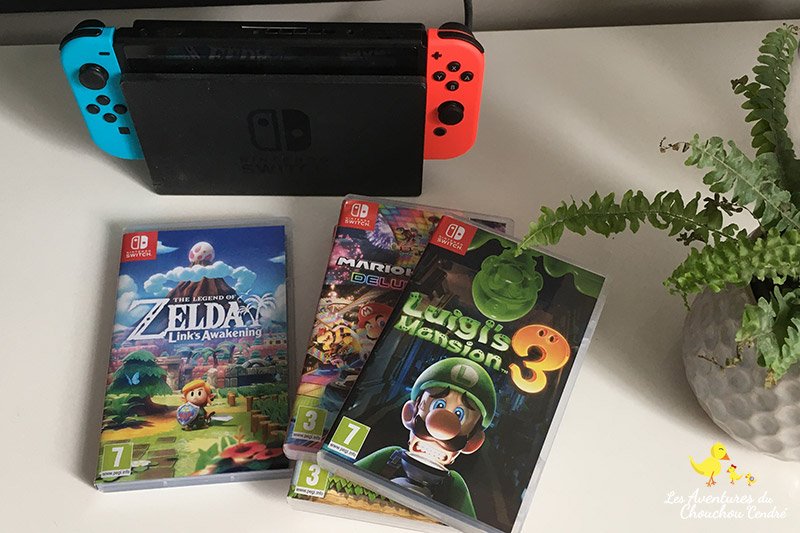 Nintendo Switch
◇ Zelda Link's Awakening : un remake du jeu sorti sur Game Boy en 1993. Ce jeu, à partir de 7 ans, est juste fantastique.
◇ Luigi's Mansion 3 : un jeu sympathique où l'on peut jouer à 2 (à partir d'une heure de progression environ). À partir de 7 ans.
◇ Overcooked : un jeu de coopération incontournable.
◇ Programme d'entraînement cérébral du Dr Kawashima pour Nintendo Switch : pour continuer à entraîner son cerveau tous les jours
◇ Mario Kart 8 Deluxe : un classique indémodable
◇ New Super Mario Bros U Deluxe : l'incontournable jeu Mario
◇ Animal Crossing : New Horizons : un jeu vidéo comme antidote au confinement ?
→ Sans oublier pour les grands : le très attendu remake de Final Fantasy VII sur PS4.
→ Micromania livre avec des délais assez courts.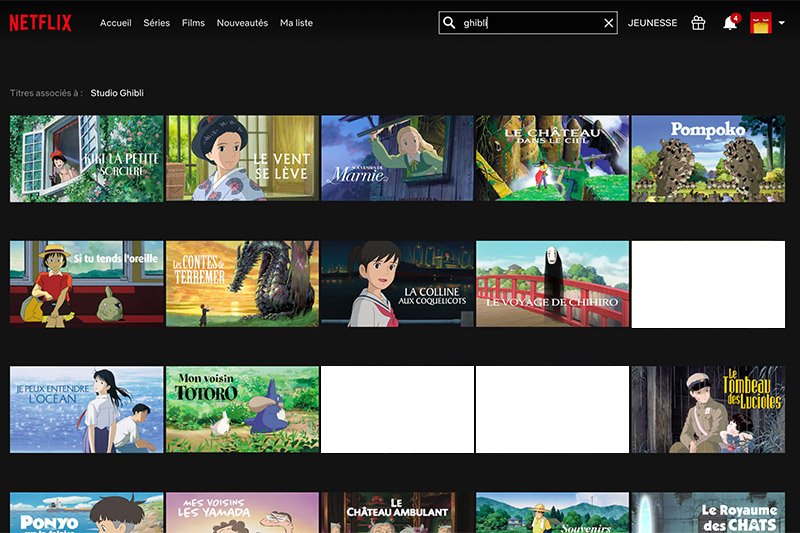 Dessins animés
Tous les films japonais du Studio Ghibli sont disponibles sur Netflix mais ils ne sont pas tous pour les petits enfants. Les voici classés par ordre de sortie et avec l'âge recommandé associé (d'après CommonSense) :
LISTE DES FILMS DU STUDIO GHIBLI
1986 : Le Château dans le ciel (9+)
1988 : Mon voisin Totoro (5+)
1988 : Le Tombeau des lucioles (15+)
1989 : Kiki la petite sorcière / Kiki's Delivery Service (5+)
1991 : Souvenirs goutte à goutte / Only Yesterday (11+)
1992 : Porco Rosso (10+)
1993 : Je peux entendre l'océan / Ocean Waves (12+)
1994 : Pom Poko (10+)
1995 : Si tu tends l'oreille / Whisper of the Heart (10+)
1997 : Princesse Mononoké (12+)
1999 : Mes voisins les Yamada / My Neighbors the Yamadas (7+)
2001 : Le Voyage de Chihiro / Spirited Away (9+)
2002 : Le Royaume des chats / The Cat Returns (10+)
2004 : Le Château ambulant / Howl's Moving Castle (8+)
2006 : Les Contes de Terremer / Tales from Earthsea (12+)
2008 : Ponyo sur la falaise (5+)
2010 : Arrietty (7+)
2011 : La Colline aux coquelicots / From up on Poppy Hill (9+)
2013 : Le vent se lève / The Wind Rises (11+)
2013 : Le Conte de la princesse Kaguya / The Tale of the Princess Kaguya (9+)
2014 : Souvenirs de Marnie / When Marnie Was There (9+)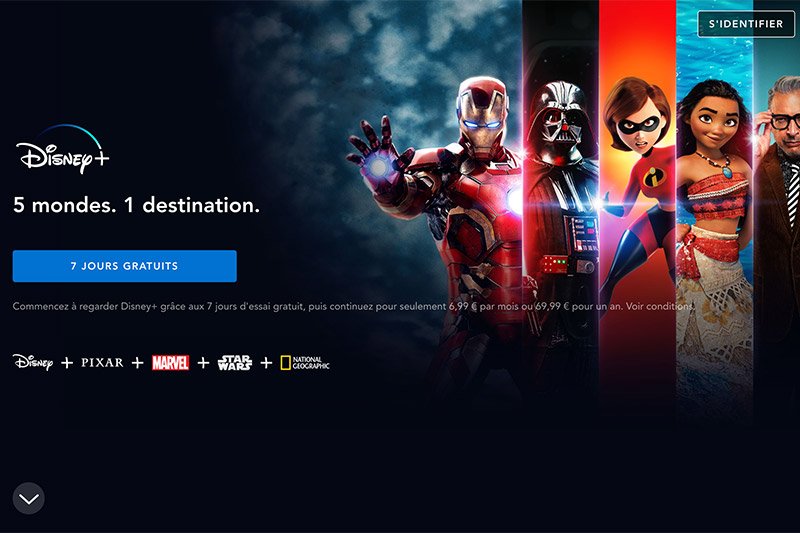 → Sans oublier Disney + qui est disponible depuis le 7 avril et gratuit pendant les 7 premiers jours !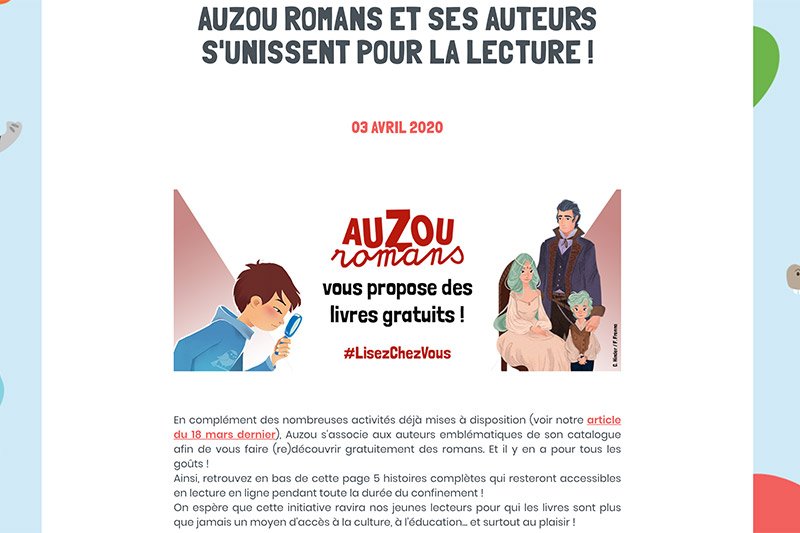 Livres gratuits
Auzou s'associe aux auteurs emblématiques de son catalogue afin de vous faire (re)découvrir gratuitement des romans. Et il y en a pour tous les goûts ! Auzou a aussi mis en ligne des activités pour occuper vos enfants pendant le confinement.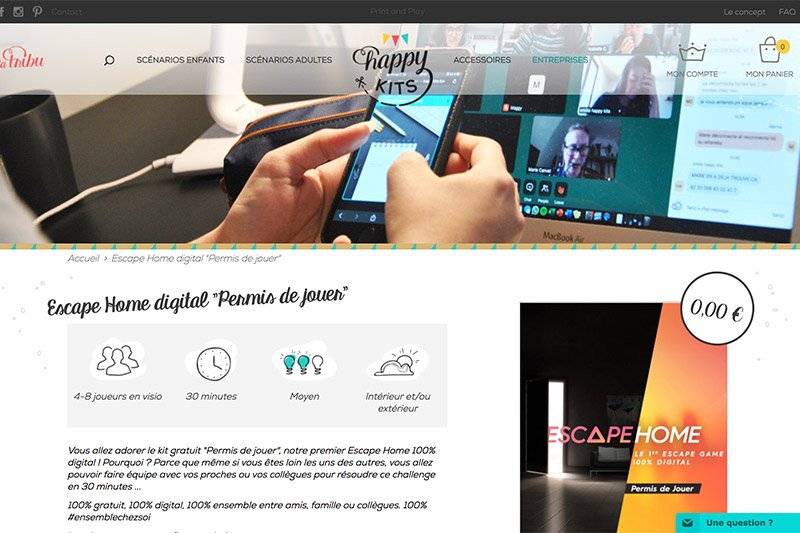 Escape Game
Happy Kits propose un escape game à la maison « 100% gratuit, 100% digital, 100% ensemble entre amis, famille ou collègues. 100% #ensemblechezsoi ».
SPORT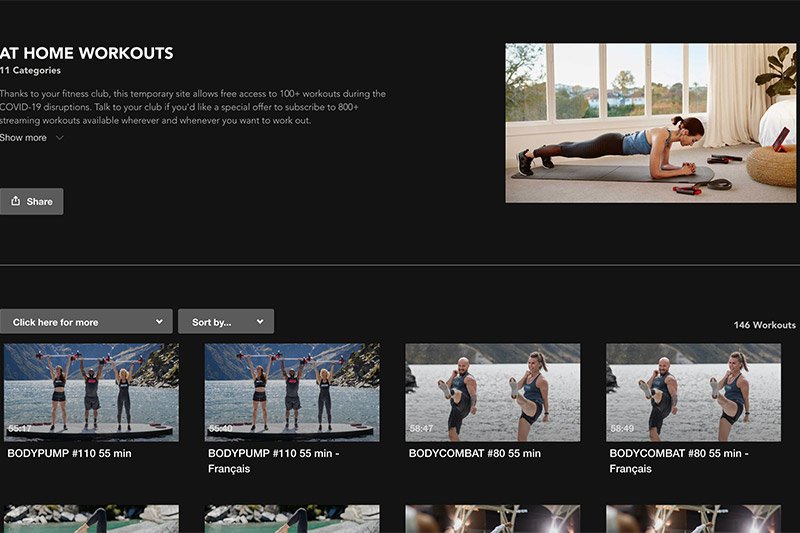 Les Mills
Ce site temporaire donne accès à plus de 100 vidéos workouts ! Si vous ne connaissez pas les vidéos Mills, elles sont vraiment de qualité.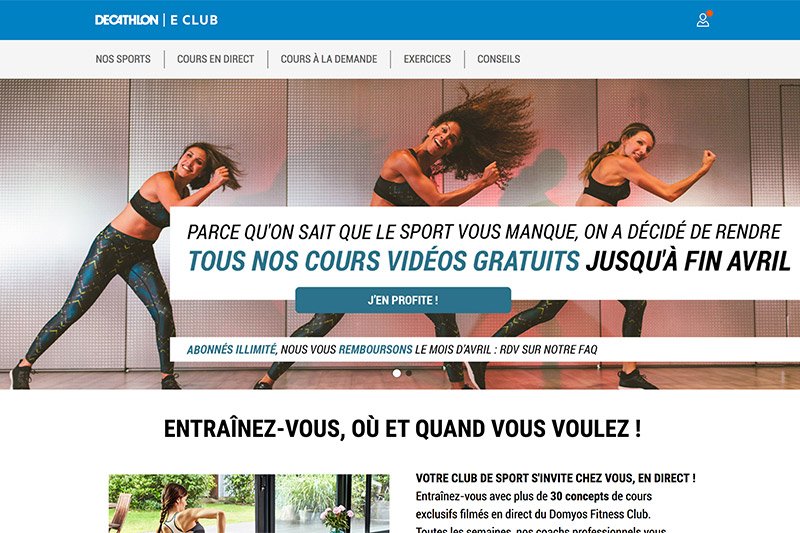 Eclub Decathlon
Tous les cours vidéos sont gratuits jusqu'à fin Avril.
Vidéos Youtube
Steve Dauger propose des vidéos « Bien bouger, c'est la santé » pour les enfants.
→ Pour les grands, il y a aussi Klay (Ken Group) et Neoness qui proposent des cours de sport en live sur Instagram tous les jours à différentes heures.
NOURRITURE
QuiToque
Les paniers-repas à recevoir chez soi sont bien pratiques pendant cette période de confinement !
♦ En savoir plus sur QuiToque : 5 raisons de vous abonner.
20€ offerts sur votre premier panier :
→ Si vous avez du mal à faire vos courses, La Belle Vie livre en 1h.
→ Le Collège Culinaire de France a décidé de compiler sur cette carte, grâce au concours de nombreux contributeurs, toutes les initiatives de producteurs, artisans et restaurateurs.
SHOPPING
MyJolieCandle
Faites-vous plaisir sur une sélection d'articles à -20%.
♦ En savoir plus sur les bougies My Jolie Candle.
→ Ikea : Vente en ligne disponible.
→ Leroy Merlin : L'enseigne vient de rouvrir sa cour des matériaux et vend toujours les produits essentiels, de dépannage et de première nécessité.
ÉDUCATION
– France 4 : Dès le mardi 14 avril, les heures de cours sont désormais mieux segmentées, par tranches de trente minutes, afin de couvrir toutes les disciplines et toutes les classes, du CP à la 3e, avec des cours magistraux.
→ MaxiCours : Un accès libre aux fiches de cours de 9h à 17h du lundi au vendredi et une offre découverte à 1 € pour profiter en illimité de tous les contenus et services.
Vous avez aimé cet article ? Épinglez cet article sur Pinterest pour le retrouver plus tard :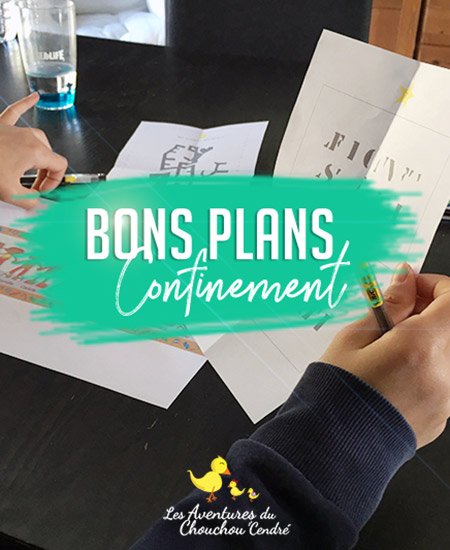 N'hésitez pas à partager vos bons plans confinement en laissant un commentaire !