Il y a quelques mois, je suis tombée sur un site de test génétique. Après avoir effectué quelques recherches pour savoir si un tel test était possible en France, j'ai atterri sur 23andMe, société montée en Californie, où Google a investi plus de 3 millions en 2007. J'ai décidé de tester cela. J'ai reçu les résultats environ 2 mois après…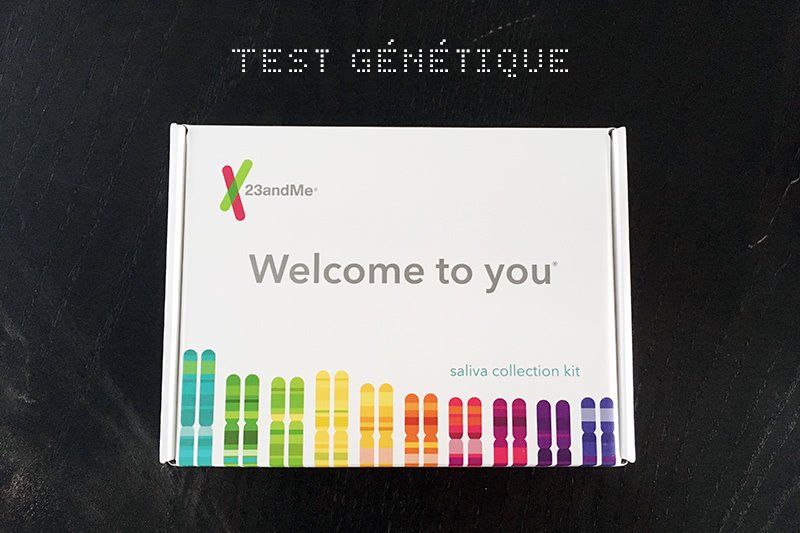 Pour en avoir discuté avec pas mal de monde autour de moi, j'ai discerné 2 groupes distincts :
– 50% qui trouvent cela génial : le côté scientifique, la généalogie…
– 50% qui trouvent cela sans intérêt : le fait de fournir son ADN à une société Américiane, le prix du test, l'intérêt de connaître ses origines…
Évidemment, si j'ai fait le test, c'est que je fais partie du 1er groupe : je trouve fascinant de pourvoir retracer les pas de ses ancêtres.
Aux États-Unis, vous avez la possibilité de faire en plus l'analyse médicale qui vous indique combien de chances vous avez de contracter une maladie en fonction de vos gènes. En France, il n'y a que le test génétique des origines qui est autorisé.
Impossible d'écrire cet article sans vous raconter un peu ma vie, ou plutôt celle de mes parents. Ils viennent d'un île appelée Hainan mais sont nés au Cambodge. Quand j'ai dit à mon père que j'avais commandé le test, il était persuadé que je n'aurais pas de « surprise ».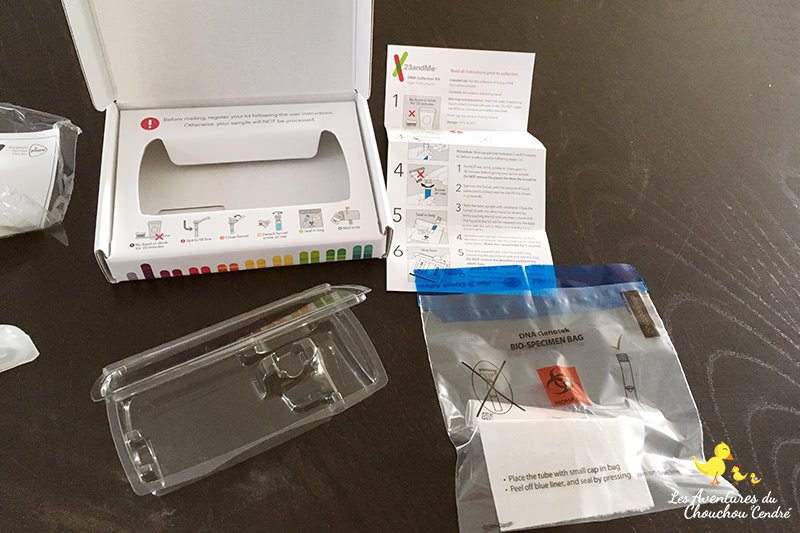 Le test
Une fois que vous commandez en ligne, vous recevez le kit dans les jours qui viennent. Il est composé (en gros) d'un tube où il faut baver dedans. Je simplifie grossièrement, mais toutes les étapes sont simples et illustrées sur le carton… Ensuite, vous renvoyez le kit (qui est parti en Suisse, pas aux États-Unis comme j'aurais pu le penser).
Les résultats
Quelques semaines après, j'ai reçu le petit mail avec les résultats. Et là, grosse surprise : la carte du monde était bien colorée, signifiant que j'avais des origines multiples. Les plus improbables étant : Afrique du Nord et Philippines. J'ai eu de la chance car en regardant dans les « relatives », j'ai découvert qu'une de mes cousines avait fait le test avant et j'ai pu comparer nos résultats. Donc je savais à peu près de quel parent je tenais ces origines « inattendues ».
« We predict you had ancestors that lived in Philippines within the last 200 years. »
D'après 23andMe, j'aurais des ancêtres qui auraient vécu aux Philippines. Le discours de ma mère (puisque je sais que cela vient de son côté) est trouble : soit c'est « ah oui c'est vrai mon arrière grand-mère vient peut-être des Philippines » ou « non ils se sont trompés, ils ont confondu avec le Cambodge »… Bref, difficile de vérifier…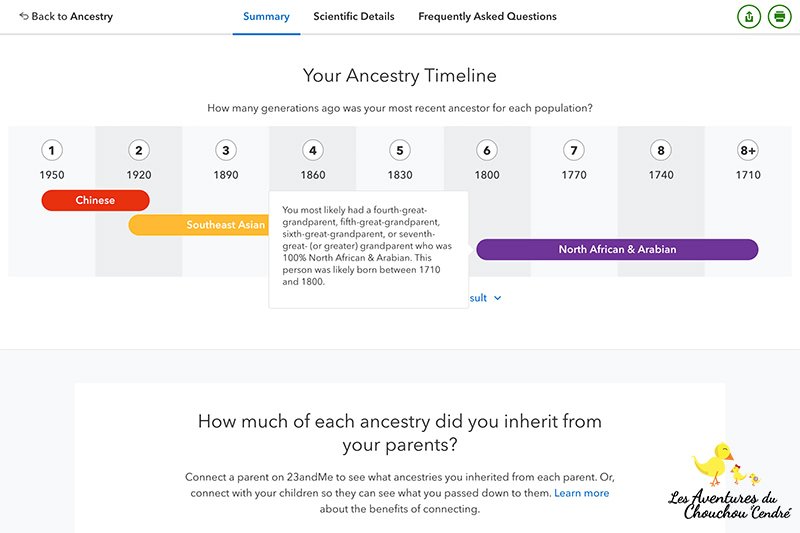 DNA Relatives
Comme je vous le disais, une fois que vous avez reçu vos résultats, il est possible de comparer votre ADN avec ceux de vos « relatives ». J'ai donc une cousine directe et beaucoup de cousins éloignés. Sur la première page, la moitié sont des personnes adoptées.
« This is my daugther's DNA. We are curious about relatives she might find. »
« I have no idea about my biological family's past »
J'ai discuté avec l'une d'entre elles pour lui dire « eh tiens, j'ai un ancêtre en commun avec votre fille » ! Sa fille a été adoptée dans une province de Chine. On a échangé quelques messages.
Autres sites
Du coup, la personne avec qui j'ai discuté m'a donné un autre site : WeGene. Il faut savoir que sur 23andMe il est possible de télécharger les données de son ADN sous format de fichier « raw data » (un gros fichier .txt de 16mo). Et il est aussi possible de fournir ce fichier à d'autres sites qui vous fourniront des résultats en fonction de leurs propres bases de données. J'en ai testé deux : WeGene et Gencove, je ne vous conseille pas du tout le premier. Le second m'a dévoilé une carte très différente : 52% Southest Asia et 48% East Asia, alors que 23andMe n'avait mis que 20% de Southest Asia.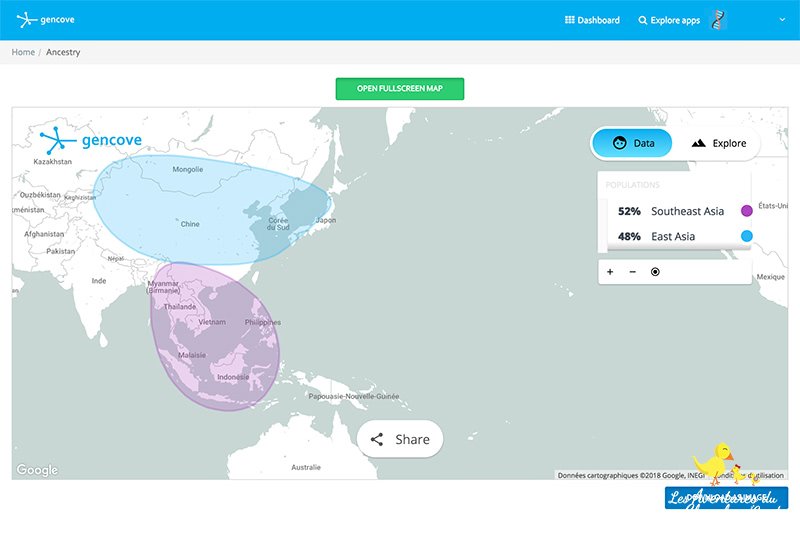 Bilan
Votre ADN est comparé à un échantillon de la population des pays actuels. Si vous faites le test dans plusieurs entreprises différentes, vous aurez des chances d'avoir des résultats différents. J'ignore si mes résultats sont fiables à 100% car mes parents ne savent pas trop mais j'ai trouvé très intéressant d'apprendre que nous sommes plus mélangés que prévu… Je cherche les témoignages d'autres personnes qui ont fait le test et qui ont eu des résultats controversés ou étonnants. Si vous souhaitez en savoir plus sur le sujet, je vous invite à lire cet article en anglais « How DNA Testing Botched My Family's Heritage, and Probably Yours, Too ».
En résumé…
Quoi :
23andMe, un test génétique qui analyse vos origines
Vous avez aimé cet article ? Épinglez cet article sur Pinterest pour le retrouver plus tard :
Et vous, est-ce que ça vous tente ?
Si vous l'avez fait, est-ce que vous avez obtenu des résultats surprenants ?
MAJ du 23/01/19 : Un article remettant en cause la crédibilité de ces tests vient de paraître. Des jumeaux ont soumis leur ADN à plusieurs entreprises différentes et les résultats ont été très surprenants. Erreur scientifique ou algorithme différent selon les sociétés, difficile de connaître la vérité, mais une chose est sûre : les résultats de ces tests ADN sont divertissants mais à prendre avec des pincettes. Source : Presse Citron
MAJ du 06/04/22 : Je suis allée visiter mon profil récemment et j'ai eu la surprise de constater que mes résultats avaient changé ! Ils ont été « affinés », voici l'explication fournie de la société dans la FAQ :
« The reference populations we use to calculate your recent ancestor locations (the countries or territories listed underneath your regional population percentages) are updated on a frequent basis to include new reference individuals, so you may see your recent ancestor locations change as the size of our database grows. We are constantly working to improve this calculation in a way that is more precisely calibrated to each location. »